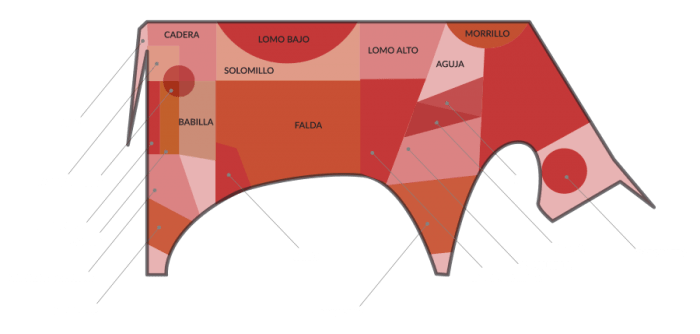 Catalogue: variety of ox and beef products
The life of the animal, the land, the countryside, food, care, energy, us … everything is linked by a thin thread that influences its meat, its butteriness, its texture, even the nuances of its flavour.
Ox meat
In Cárnicas El Capricho, you will find the best place to buy unique ox meat.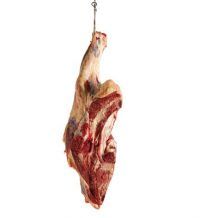 Forequarter
The forequarters are aged for between 7 and 15 days. They weigh an average of between 80 and 100 kg. With the meat from our forequarters you can make high quality burgers.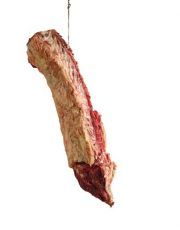 Ox flank
The flanks of our oxen are aged for about 40 days and weigh about 40 kg. They can be prepared in cuts to suit the customer. The flank of animal gives us the strip of ribs and the flank steak; the rest, the flank meat itself, can be used to mix with the forequarter to make burgers and to add flavour.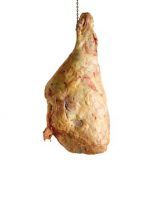 Leg
The legs are aged between 15 and 30 days and and they weigh about 100 kg. The leg gives 3 cuts that are traditionally used for making 'cecina' or cured beef: topside, silverside and stifle. The leg also contains the rump, the rump cap, the rump tail and the hock, which if we do not bone we can use to get ossobuco. We can also get bones with marrow from the leg.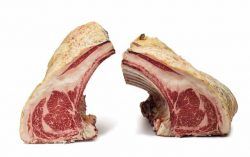 Age premium ox loin
We sell our ox loin whole, in other words with the eight ribs and the bottom sirloin or fillet steak. It is one of finest cuts on the animal and one that can stand the longest ageing. The ageing is individual for each piece, following certain parameters such as breed, age or marbling.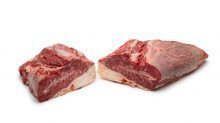 Shoulder blade
This is a cut that comes from the forequarter. It has a characteristic central tendon, and comes from the part of the animal behind the shoulder blade. It weighs between 3 and 4 kg and it is always cut as one piece. It is very tender, very juicy meat and it is especially good for roasting because of its juiciness.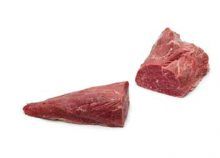 Chuck tender
This also comes from the forequarters, next to the blade steak. Our cuts weigh between 2 and 3 kg. It is a great cut for making boned rolled meat.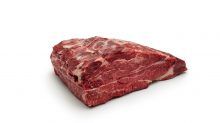 Chuck
This comes from the forequarter and is the extension of the top sirloin towards the neck. It's a very tender, marbled cut of meat. The pieces are between 5 and 10 kg but we can prepare them in chunks as desired. It gives fillets that are full of fat for barbequing or grilling.Minced, it can be used to make fabulous meatballs; it can also be prepared as carpaccio, steak tartare and even top-quality burgers.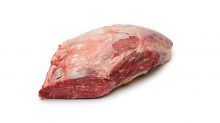 Shoulder
This cut comes from the forequarter. The cuts from our oxen weigh an average of 8 kg. It is very tender, juicy meat. It is very good for making steaks, steak tartare, stews and roasts. For roasting, it is good if it has a good layer of fat, as it is a fat with superb quality and gives more flavour. You can also make cured beef (cecina) with it.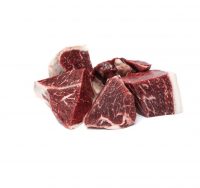 Lean Meat
We call the cuts from the forequarter lean meat, and they can be used for multiple purposes. We're talking about chuck, chuck tender and shoulder. These cuts have hardly any fat, so if you want to make burger it is usually mixed with meat from the flank, which gives it some fat.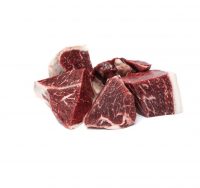 Lean flank meat 
These are chunks of meat from the flank, with a high percentage of fat, so it is suitable for mixing with other meats, for example, from the forequarter to make burgers.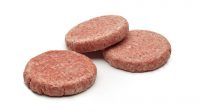 Oxburguer
This oxburger is minced meat, moulded and deep-frozen, and it has no ingredient other than a little salt. To prepare it, the lean meat from the forequarter is used, as well as the flank, which gives it juiciness because it has more fat. Our oxburger is characterised by the pure taste of the meat. It has a very nice texture because it is pressed very gently and has no additives, colourants or preservatives.
It has been made exclusively with authentic ox beef, coming from animals some of which are more than 10 years old; it's a product which is unique in the market.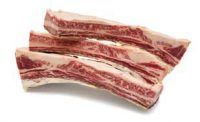 Short ribs 
This piece comes from the flank, between the fifth and eighth rib. We prepare it without the bone, but if someone wants it on the bone, you just have to ask for it. It is a piece weighing between 1.5 and 4 kg, with great marbling, and it gives wonderful results on the barbeque if previous cooked at low temperature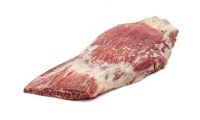 Flank steak
This is a cut that comes from the flank and it is oval. It is a muscle of intense flavour. It is a very scarce cut since each animal has about 1 kg of flank steak, and it is very tasty grilled, or in strips cut crosswise, with the grain of the meat. It is also suitable for all types of stuffings.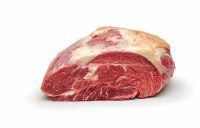 Rump
The rump is in the leg; specifically, where the end of the hip joins the bottom sirloin in the saddle. It has a V shape and in our oxen it weighs between 8 and 10 kg; we cut it into small chunks to make it easier to handle. It is aged with the leg for a month.
It has great texture, is juicy and has a lot of flavour, so it is fabulous for making steak tartare. It is also very good for making steaks both on the grill and barbeque.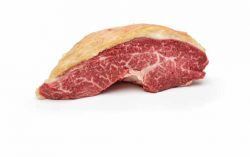 Ox eye-rump side cut
This is a leg muscle that goes up from the knuckle to the rump and weighs between 2 and 3 kg. It is a meat that is very marbled and is very tender and juicy. It can be used for grilling or barbequing, both in medallions and fillets.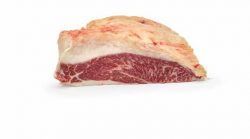 Rump cap or bottom of silverside
This is located in the leg, specifically at the end of the silverside and below the rump. It is a muscle that joins the leg to the saddle. It is a very small cut; you can get two pieces, of approximately 1.5 kg each from each animal, and it is highly prized because it has a high percentage of fat marbling and is very tender and tasty. It is great for barbequed fillets, steak tartare or tataki.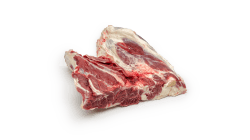 Ox shank
This comes from the forequarters and the hindquarter. There is more collagen in the forequarter shanks and therefore they are more tender. The shanks from our oxen weigh about 5 kg each, but they can be cut smaller if desired.
It is very gelatinous, smooth meat, due to its high collagen content, and it comes from the same area as the ossobuco but is traditionally boned and cut lengthwise.


Ossobuco
Ossobuco is the name for the cut that comes from the shanks, which are the end of the animal's leg next to the hoof, cut crosswise into thick slices with the boneleft in, and strictly speaking ossobuco comes from the hind legs. It is a spectacular cut because of the size of our oxen and their quality, and it is very tasty stewed and in risotto. As it is a visually stunning cut and can be carved at the table, it can be a star dish in a restaurant. Its intense, sweet buttery flavour comes from the presence of the bone in the stew, with its collagen and especially with the inner treasure of the bone marrow.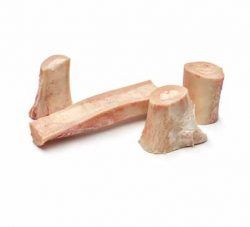 Ox bons with marrow 
Whole, cut crosswise or lengthwise; they are highly suitable for barbequing although you can make other types of dishes such as soups or for browning. They have a deep, intense flavour.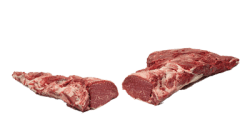 Sirloin 
This is located on the loin, and is matured with the rib and the kidney area for 15 to 30 days, depending on the animal. A sirloin from one of our oxen weighs between 4 and 6 kg. It is a meat that is highly prized for its tenderness, characterised by its texture. Our oxen give sirloins with excellent flavour, as they are old animals and the sirloin has the special flavour of age.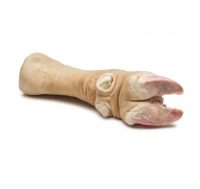 Ox trotter
Beef trotter is thick, robust and friendly. It has borne the weight and life of the animal; it is full of collagen and is smooth and delicate in the mouth. It opens the doors to a whole world in the kitchen.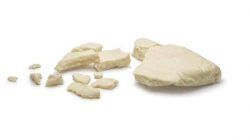 Kidney fat
Kidney fat is the most delicate fat in the animal, and we get it by melting the fat that covers the kidneys. We melt it at a low temperature so as not to damage its structure, as this is fat of a very high quality, which has accumulated slowly over the years with an almost absolute hormonal purity that makes it unique.
It has a very low melting point and is ideal for baking and for inspiring cooks and chefs.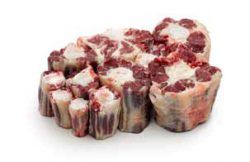 Ox tail
An ox tail weighs between 1.5 and 2 kg and is delicious stewed. It is high in collagen, which makes it very smooth in the mouth and allows us to break it up and make it into different dishes.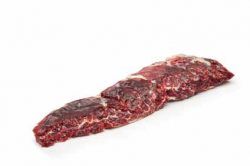 Skirt steak
The skirt steak is the muscle that protects the entrails of the animal, joining the liver to the lungs. An ox has about 2 kg of entrails. It is very popular because it cooks fast, and is one of the tastiest cuts on the grill because of the marbling of the fat in the meat. It is a very thin cut that is covered on both sides by a membrane.
It tastes bloody.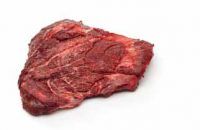 Ox cheeks
This is the outside of the cheek. This cut can weigh between 2 and 3 kg. It is very tasty meat, good for stewing or boiling, with a high content of collagen.


Ox heart
The heart of our oxen is large and smooth. Properly cut, it has a soft texture and a lot of flavour. It is ideal for kebabs and for flash frying. It has a deep, true flavour, and it seems as if this part of the animal can help us understand its nobility and restrained power.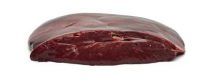 Liver
The liver has a powerful yet delicate flavour. It is ideal for kebabs and for grilling or frying rare.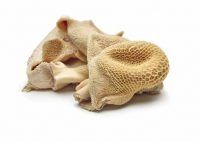 Ox tripe
Tripe is made from the two stomachs of the animal, the reticulum and the omasum. It is particularly delicate, differing from the tripe of younger animals. It can be made into slow- cooked traditional stews served in a paprika sauce.

Age loin working beef
We came up with this name of 'working cow' to indicate that it is a cow reared in a different way. These are cows with great hormonal purity since they have not given birth for at least a year, and as a result of this they are closer to an ox in the sense that both animals have meat and fat that have not been altered by hormones.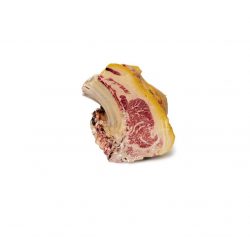 Premium age loin working beef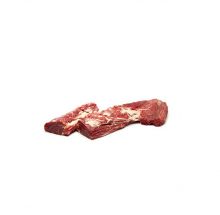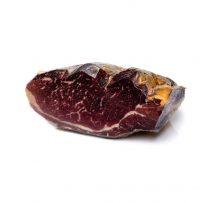 Cured ox
Cecina or cured salt ox is a dish fit for kings, obtained from those of our animals which have accumulated these magical veins of fat that melt in the mouth and flood our palate with flavour and undertones.
We serve it in whole pieces, in wedges or thinly sliced.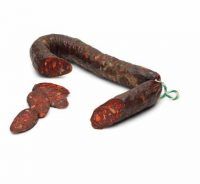 Chorizo de Buey (spiced cured sausage)
Made from beef and beef fat with a recipe that is exclusive to El Capricho®.
Cold-cured and smoked according to the tradition in Leon.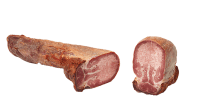 Cured tongue
As its name suggests, this cut comes from the animal's tongue. After a long traditional curing process of more than two months, we get a cured tongue of great quality.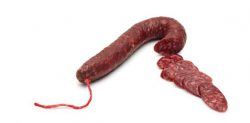 Salchichón (spanish salami)
In this cured spicy sausage, beef is mixed with Iberian and Asturian-Celtic pork to give a delicious mixture with a peppery flavour that makes it unique.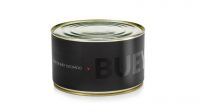 Cooked oxtail
This is an exclusive product because its scarcity. It is stewed with red wine, and because of the collagen, it is very pleasant in the mouth and very tasty.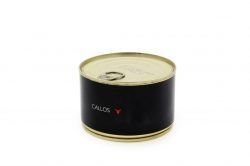 Cooked tripe
The tripe, nose and the trotters of our old oxen have a very special texture and are clearly different from the tripe of younger animals. We make a traditional stew with them.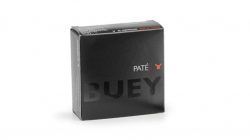 Paté
Our animals are superior right down to the liver, which is a tender part with a rich flavour, and with added spices makes our pâté a delicate unique product.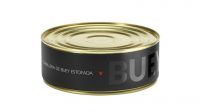 Cooked cheek
Flavour and texture come together in this dish of beef cheeks, which is high in collagen and low in fat.
Jar of blood pudding
Blood pudding is a traditional product from the region of Leon, and its main ingredients are blood and onion. This morcilla is, along with cecina one of the most representative of the cuisine of Leon.
El Capricho® presents its ox blood sausage made solely with products from the ox as part of its high-quality artisan product line. To cook, put the contents of the pot in a saucepan over a low heat without oil for about ten minutes.