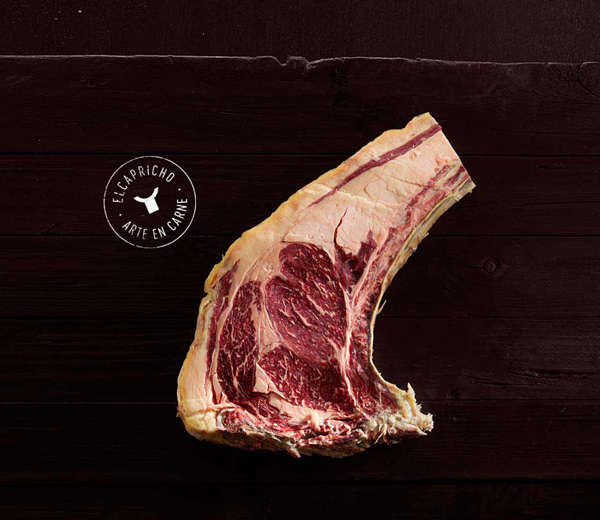 Producers and distributors of ox meat and beef. We are committed to respect for the product.
It is a standout, unique product that comes from breeding, care on our farm, dignified slaughter and scrupulous monitoring of all the dressing, preparation and ageing processes for each cut.
An added value for your restaurant, gourmet shop, wedding center… make your customers enjoy our meat.
In Spain, Portugal and France.
Ensuring complete control of each animal and cut.
Each process is certified by the highest quality control standards.
To take our meat to any corner of the world.
Recognized by The New York Times, Vogue, The Guardian and Stern as the best meat in the world.
Passion for meat A life of dedication, devotion and respect for the ox.
Here at Cárnicas El Capricho we have spent years observing, understanding and learning about our oxen, because it is not a process but an art.
The journey begins with our fellow farmers, honest people dedicated to the care of our noble animals. Their effort and patience in understanding the time required are a unique value. Because for us, the ox is more than just an investment. It is a serene calm that accompanies us, it is the memory of our ancestors, and it is the culture of the land, which is why we farmers raise our oxen with admiration and pride, without forgoing authenticity.
Somehow, all of this is in the meat, which has an exceptional energy that makes it different.
A BREED IS A RETURN TO ORIGINS, A SEARCH FOR AUTHENCITITY
We select specific animals of indigenous iberian breeds for gourmets tastes.
These are breeds which have not been genetically modified and retain all the weight of the past … La Minhota, Sayaguesa, Tudanca, Rubia Gallega, Asturiana de los Valles corriente, Parda de la Montaña, Alistana Sanabresa, Vianesa, Arauquesa, Friesian, Maronesa, Barrosa and Cachena.
IN CÁRNICAS EL CAPRICHO, WE ARE SPECIALISTS IN DRY-AGEING MEAT
We have been pioneers for 40 years, gaining recognition that has crossed all the borders on the planet.
The roots of our work are passion, determination and perseverance, but above all a sensitivity and clear criterion of our own to recognize excellence and authenticity in the product and to fight for it with love and self-sacrifice, with an obsessive force.
OUR MEAT DISTRIBUTOR IS A GUARANTEE OF QUALITY

Restaurants and Steakhouses

Gourmet Stores

Catering companies

International Distributors
Taste our best selection of ox and beef in your own home.
Come and enjoy the magic of José Gordón at our restaurant.